We all want our parents, partners, family members and friends to return home from work safely. The following is Shane Webcke's touching story
Shane Webcke, football legend and sports presenter, is Workplace Health and Safety Queensland's Safety Ambassador.
Shane has a strong connection and commitment to work safety as his father was killed in a workplace incident.
I lost my dad in a workplace incident, so I know first-hand that family and loved ones are the most important reason for work safety.
In his new safety film, and at Safe Work Month events across Queensland throughout October, Shane will share the story of how his father's death impacted his family, and offer advice to workers and businesses about the importance of staying safe at work and creating a strong safety culture.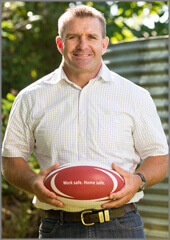 Shane played 254 matches for the Brisbane Broncos (including their 2006 Grand Final win), made 21 State of Origin appearances for Queensland, and played 20 Test matches for Australia.